Happy birthday
---
---
Noder
Der kræves ikke kendskab til noder eller musikteori for at lære denne sang på klaver.

Her kan du høre sangen som lyd-fil:
---
Baggrund
"Happy Birthday to You" blev oprindeligt komponeret i 1893 som "Good Morning to All" af Patty Smith Hill, der var en børnehagelærer og rektor i Louisville, Kentucky, og hendes ældste søster, Mildred Jane Hill, der var pianist og komponist.
Sangen, Happy Birthday to You, synges tusindvis af gange hver dag og millioner af gange hvert år. Det er den enkle tekst på fire linjer, der ønsker nogen et "tillykke med fødselsdagen" med en af de linjer, der indeholder fødselsdagspersonens navn.
Komponisten af den melodi var Mildred J. Hill (1859-1916), hvis fødselsdag er den 27. juni.
Hendes yngre søster, Patty S. Hill (1868-1946), skrev ordene. Denne sang har, selvom den er enkel i strukturen, en kompleks historie.
Mildred og Patty blev født i Kentucky i Louisville-området. De og deres fire andre søskende havde forældre, der indprentede dem værdien af uddannelse og musik. Mildred var en komponist, musiklærer og musikforsker, der havde specialiseret sig i studiet af negerspiritualer.
Patty var børnehavelærer og rektor ved Louisville Experimental Kindergarten School. Hun var en førende autoritet inden for førskoleundervisning, der understregede begreberne fra den tyske pædagog, der skabte børnehaven, Friedrich Froebel (1782-1852).
Brugen af legetøj og legetid som en form for læring og barndomsudvikling vandt popularitet i slutningen af det 19. og begyndelsen af det 20. århundrede.
Det inkluderede også sange, der handlede om, hvordan børn ville se verden. Happy Birthday-sangen blev skrevet i 1893 med den originale titel Good Morning to All. Den tredje linje erstattede ordene "kære børn", hvor fødselsdagsteksten indsætter navnet på personen.
Dette blev brugt som en klassehilsen. Patty og Mildred skrev og tilpassede adskillige sange til små børn, der spændte fra at hilse på hinanden til sange om blomster, sommerfugle, ferier og andre ting, der udgør en del af et barns verden.
Disse sange, inklusive Good Morning to All, blev udgivet af Clayton F. Summy Co. i 1896 i samlingen Song Stories for the Kindergarten, som Hill-søstrene dedikerede til Louisville Free Kindergarten Association.
Fødselsdagsversionen blev første gang udgivet i 1912 af Cable Company i The Beginners' Book of Songs. Men Happy Birthday to You var ikke ophavsretligt beskyttet før 1935 af Chicago-udgiveren, Clayton F. Summy Co. Sangen var blevet enormt populær i løbet af de første to årtier siden den første udgivelse.
Fødselsdagsfester for et barn med andre børn til stede startede først omkring 1870, så timingen var den rigtige for en standard fødselsdagssang.
Adskillige arrangementer af musikken ved hjælp af fødselsdagsteksterne blev lavet i begyndelsen af 1930'erne. Forskellige spørgsmål omgav ejerskabet af sangen, herunder den forkerte antagelse om, at det originale værk var en folkesang, og derfor var der ingen tilladelse til, at nogen kunne arrangere den.
Rapporten af juraprofessor ved George Washington University, Robert Brauneis, Copyright and the World's Most Popular Song, går i detaljer om de omstændigheder, der omgav dette værk.
Happy Birthday to You er en af de tre mest populære engelsksprogede sange nogensinde. De to andre er Auld Lang Syne og For He's a Jolly Good Fellow. Den nuværende udgiver er AOL Time Warner. Sangen fortsætter med at tjene cirka 2 millioner dollars årligt i royalties og kan ikke synges med fortjeneste uden at få tilladelse og betale royalties.
---
Den oprindelige tekst lød sådan:
Good morning to you,
Good morning to you,
Good morning, dear children,
Good morning to all.
At synge Happy Birthday Song kan faktisk få fødselsdagskagen til at smage bedre.
Ifølge en undersøgelse foretaget af forskere fra Harvard University og University of Minnesota hjælper sangen os med at nydde den.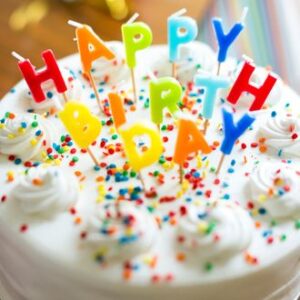 ---
Du kan læse mere her